Data Networks

Our specialist knowledge of data installation and data cabling means that we can design and install entire infrastructures for commercial and industrial premises.
We can effectively link systems for greater and faster communication, provide wireless links wherever they are needed and install fibre optics, CAT5 and CAT6 cabling.
We are the nominated electrical contractors for many large UK organisations, such as the Royal Institute of Chartered Surveyors, and we use the latest technology to enhance network performance and improve efficiency.
The advantages of fibre optic cabling
Fibre optic cabling can be used to accommodate computer networks, CCTV, telephone and broadband and is more efficient than traditional cabling.
It is less expensive than equivalent lengths of copper wire
It is thinner, lighter and has a higher carrying capacity
It uses less power
There is less signal degradation and the result is clearer phone calls with no echo effect
It carries high volumes of digital information
The importance of cable
Cabling is one of the most important components of your network and is the most long-lived with an expected life span of 15-20 years.

You'll most likely replace your network equipment three to four times over the life of the cabling system.

Plan on cabling to be about 15% of your total network cost and don't skimp on the cable or the installation. An investment in a high-quality cabling system is easily justified in reduced downtime, reduced maintenance, and better network performance.

Think long-term and buy the best cable and installation services.
Cabling considerations
The type of network you plan to run will influence the cable you choose
Anticipate changes and upgrades in equipment and 20 years maximum
Review the maximum distance between your network switches and the farthest desktop
Consider bend radius and available space for running cables in the floor and ceiling
Is there existing or abandoned cable that needs to be removed?
EMI(electromagnetic interference) Must check for this
Any physical limitations that could affect your cable choice?
Choosing cable
When planning your cabling infrastructure, you have two basic choices; copper or fibre. Both offer superior data transmission. The decision on which one to use depends on your current network, your future networking needs, and your applications, including bandwith, distances, environment, cost and more.
Traditionally, copper was used in lower speed, short distanced networks, and fibre was used in higher-speed, long-distanced networks. But with the advent of copper cable running at 10-gigabit rates, this maxim no longer holds true. You may even find a mixed network with a fibre backbone and copper horizontal cable to be an optimum solution.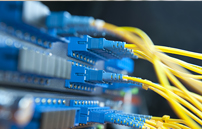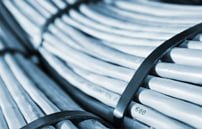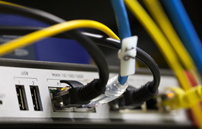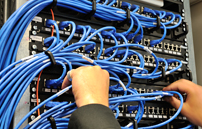 Data cabling installation
Cable network solutions
Network wiring
Network testing
Network cabling repair
Covering the Midlands, Worcestershire, Warwickshire and Birmingham
Centrally located in the UK we provide a national service but we are ideally located for work in the Midlands, Worcestershire, Warwickshire and Birmingham.
We'll Call you back