Making Solihull homes safe for over 30 years.
MSE are the leading electrical contractors in the Midlands, and have been making Solihull homes safe for over 30 years. With a team of electrical engineers and electricians based right here in Solihull, we are able to provide a wide range of electrical services from home rewiring through to office refurbishment.
Electrical safety is our speciality, and we carry out all types of electrical testing and electrical safety inspections to ensure that your premises are safe and secure. Other services we offer include data communication installation, access and security systems, building management systems, emergency lighting, fire alarms and much more.
We have decades of experience working in both the commercial and industrial sectors carrying out all types of electrical work and maintenance and we are proud to name renowned businesses such as Best Western Hotels, B&Q, JLR, Rolls Royce, Sainsbury's and Vauxhall as our valued clients.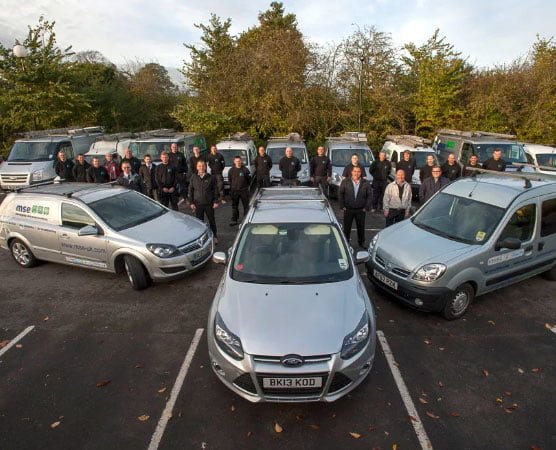 Trained to the highest standard
Our Solihull electricians and engineers are NICEIC registered and trained to the highest standard to reflect our business values and preserve our unparalleled customer service record. Every member of our team undergoes regular continued professional development and hold valid CSCS cards. We take safety very seriously here at MSE, and for our customer's peace of mind we complete DBS checks on all our staff and ensure that they wear our distinctive company uniform and identification at all times.
As a company we take great pride in educating the next generation of Solihull electricians to continue making safe environments right here in the Midlands. MSE operate a successful apprenticeship scheme and take on new trainees on a regular basis. In addition to future proofing our business with apprentices, we are also aware of the effect that our business can have on our environment. We work to reduce our carbon footprint wherever possible, and have gone to great lengths to fix tracking devices to our vehicle fleets in order to monitor our travel and improve our efficiency.
We are located in the midlands area and are ideally positioned to serve Birmingham, Solihull, Bromsgrove and Alcester.
The MSE difference is that we put our customers at the centre of all we do, and we strive to provide a professional yet personable service to each and every client on each and every project. We work alongside you and/or your team to identify your electrical needs and then we can create a services plan to suit your brief and your budget.
If you are looking for electrical services in Solihull, then call your local MSE engineer today on 0800 0343 913