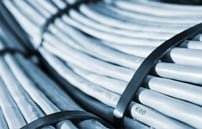 Gloucester Data Project
MSE were appointed as the electrical contractor with their proven track record of designing, installing and maintaining systems of the highest standards.
The Requirement
Multi occupied building within the centre of Gloucester comprises multiple offices and meeting rooms and the new network was to be installed throughout the refurbished South West wing on first floor level.
MSE installed basket containment in ceiling void and floor space back to the comms room with two number 42U floor standing cabinets to house all passive and active equipment.
All data and WIFI points cabled back to the 42u data cabinets within comms room.
507 Connectix CAT6 Outlets were spaced out amongst the South West wing with the majority being installed into recessed floor boxes, except for the WIFI network points within the ceiling void. On completion of the works the structured cabling was certified using an approved cable certifier and results issued to the client. We also provided an "as fitted" drawing showing the location and number of all points installed to enable the end user to locate outlets with ease.
Challenges
Due to building being occupied whilst works were carried out this made it complicated when removing the original structured cabling install. We made sure at all times the existing clients network was kept operational with no downtime while works were taking place.
This was achieved throughout the project thanks to MSE methodical approach.