At MSE, we can assist you with network cable wiring and all your network cable installation requirements. We're confident we can provide you with everything you need from a network cable installer, so if you're looking for the services of a leading fibre and Ethernet cable installer, then look no further. Check out our guide to network cabling for more information.
High-profile clients
We have in-depth knowledge of data installation and data cabling and have carried out network cable wiring for companies from a wide range of sectors and have worked on a variety of different commercial and industrial premises. Our solutions are designed to bring you faster and more reliable communication, and we can provide wireless links wherever you need them.
We are specialists in installing fibre optics and CAT6 cabling and our clients include the Royal Institute of Chartered Surveyors, and we are also the nominated electrical contractors for various other high-profile companies and organisations across the UK.
We can design and install the entire infrastructure for your premises and we always make full use of the latest technology available to us in order to make your operations and network as efficient and effective as possible.
Invest for the future
Cabling is one of the most significant parts of your network and has the most longevity, normally lasting between 15-20 years. You can expect to replace your network equipment around three to four times before you need to replace your cabling system and you should expect cabling to cost around 15% of your entire network cost. It really is worth investing in the right cabling solutions so you can enjoy less downtime, less maintenance and better performance.
The resurgence of copper
Copper can be expensive, but it is now much more reliable than it once was. Historically it was used for low-speed short-distance networks, but now that copper cable can run at 10GB rates, it has regained popularity. Some of our customers choose to opt for mixed networks consisting of a fibre backbone and copper cable.
There are many advantages attached to fibre optic cabling. This kind of cabling is faster and more reliable than traditional cabling and is used to connect computer networks, telephones, CCTV and broadband. It is less expensive than copper wire and is also lighter and thinner. What's more is that it uses less power, whilst the reduced signal degradation results in clearer phone calls without echo. Fibre Optic cabling can also carry bigger volumes of data so it's perfect for the modern-day needs of large organisations.
It is less expensive than equivalent lengths of copper wire
It is thinner, lighter and has a higher carrying capacity
It uses less power
There is less signal degradation and the result is clearer phone calls with no echo effect
It carries high volumes of digital information
Cabling is one of the most important components of your network and is the most long-lived with an expected life span of 15-20 years.
You'll most likely replace your network equipment three to four times over the life of the cabling system.
Plan on cabling to be about 15% of your total network cost and don't skimp on the cable or the installation. An investment in a high-quality cabling system is easily justified in reduced downtime, reduced maintenance, and better network performance.
Think long-term and buy the best cable and installation services.
The type of network you plan to run will influence the cable you choose
Anticipate changes and upgrades in equipment and 20 years maximum
Review the maximum distance between your network switches and the farthest desktop
Consider bend radius and available space for running cables in the floor and ceiling
Is there existing or abandoned cable that needs to be removed?
EMI(electromagnetic interference) Must check for this
Any physical limitations that could affect your cable choice?
Choosing cable
When planning your cabling infrastructure, you have two basic choices; copper or fibre. Both offer superior data transmission.  The decision on which one to use depends on your current network, your future networking needs, and your applications, including bandwith, distances, environment, cost and more.
Traditionally, copper was used in lower speed, short distanced networks, and fibre was used in higher-speed, long-distanced networks. But with the advent of copper cable running at 10-gigabit rates, this maxim no longer holds true. You may even find a mixed network with a fibre backbone and copper horizontal cable to be an optimum solution.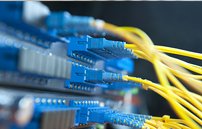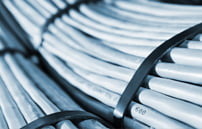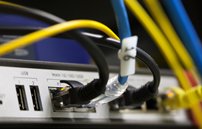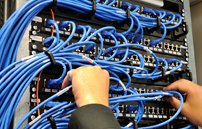 Data cabling installation
Cable network solutions
Network wiring
Network testing
Network cabling repair
Contacting us
Get in touch with MSE today if you need help selecting the right cabling for your needs. The type of network you're running or planning to run can play a big role in deciding what kind of cabling you opt for, and you'll need to consider factors like future equipment upgrades and distances between network switches and computers. You'll also need to think about EMI or electromagnetic interference and whether existing cable needs to be removed.
We can install, maintain, repair and attend to all your cabling needs. Talk to MSE today if you require help with data cabling installations, cable network solutions, network wiring, network cabling repair or network testing. We would be happy to help.